You are experiencing some symptoms. Are these symptoms cold or flu?
 
| Symptom | Cold | Flu |
| --- | --- | --- |
| Fever | Rare | Always (usually high) |
| Headache | Rare | Significant |
| General Body Ache | Slight | Often severe |
| Tiredness and fatigue | Medium | Continuing for 2-3 weeks |
| Listlessness | Very rare | Significant |
| Nasal congestion/drainage | Usually | Occasionally |
| Chest pain/cough | Mild to medium | Usually intense |

Source: National Institute of Allergy and ınfectious Diseases, FDA.
 
If You Have the Flu...
- If you believe you are sick, avoid public places and limit contact with family members as much as possible so as not to transmit the virus to others.
- Fluid intake is important. Consume food with high water content such as soup, fresh squeezed juice, buttermilk, kefir, oranges and tangerines.
- You can gargle with salt water to soothe a sore throat.
- Resting at home will not only be good for you, it will prevent the virus from spreading to others.
- Even if you have no appetite, eating little and often may help you to get the adequate nutrients that your body needs.
- Keep a clean handkerchief or tissue with you for when you sneeze or cough.
- If you sneeze or cough and don't have a clean tissue, instead of your hands use the crook of your arm.
- Definitely consult your physician before using any medication.
Recommendations to Avoid the Flu
- Winter fruits and vegetables are excellent in protection from flu or cold. Eat plenty of fruit and vegetables.
- Make getting adequate, balanced nutrition a lifestyle.
- Regular exercise supports a healthier immune system. Try to walk at least several times a week at the least.
- Staying at your ideal weight greatly reduces the risk of non-infectious disease in addition to the flu.
- Don't smoke.
- Make sure your blood pressure is normal.
- Keep your hands clean and hygienic, and wash them more often in cases of epidemics.
- Adequate sleep helps support your immune system. Make sure you get enough sleep.
- You can avoid viruses by keeping your hands away from your eyes, nose and mouth, especially during epidemics.
- If you want the influenza vaccine, consult your physician.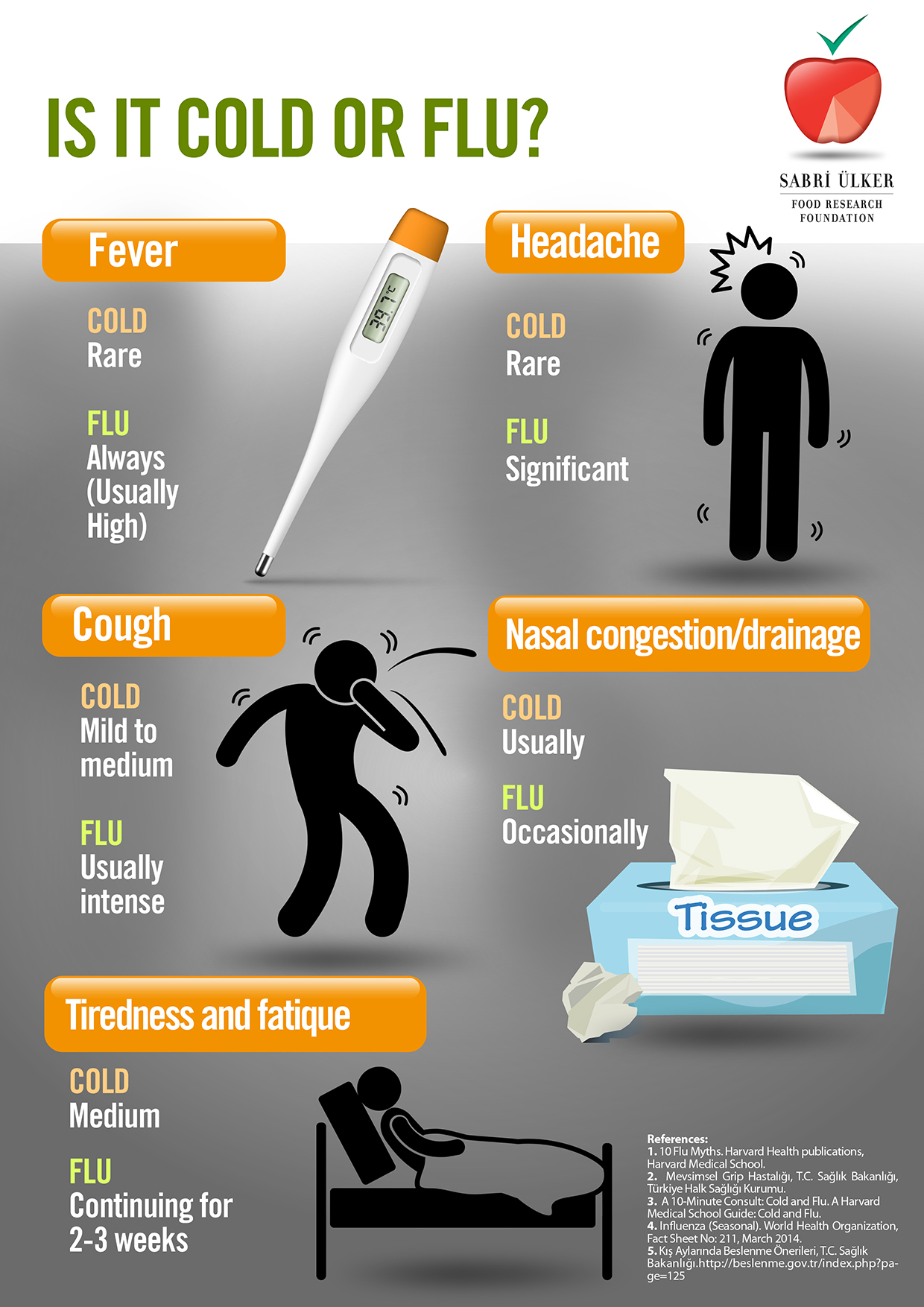 Click infographics for the details about flu and cold.